A Milwaukee woman has likely burned her marital bridges after allegedly setting her husband's head on fire last week while he slept.
Tuhonsty Marie Smith, 29, reportedly confessed the devilish deed to cops – but claimed she thought her spouse had inflamed tensions by trying to poison her chicken wings, according to a criminal complaint obtained by CBS 58.
Emergency responders arrived at the couple's home in the city's Enderis Park neighborhood at around 4 a.m. on June 3 to find Smith's partner, Henry Williams Jr., with severe burns to his chest, head, ears, hands, neck and face.
After Williams, also 29, was rushed to hospital, Smith reportedly admitted that she had waited for him to fall asleep that night before setting light to his head.
She allegedly filled a cup with lighter fluid, poured it over the dozing man's head and ignited the concoction with a lighter, police said.
Smith allegedly told officers that she was not trying to kill her husband; however, she said that she suspected him of lacing her chicken wings with poison earlier that day.
While recovering, Williams described how he had woken up realizing his hair was on fire, causing him to attempt to put out the blaze with his bare hands.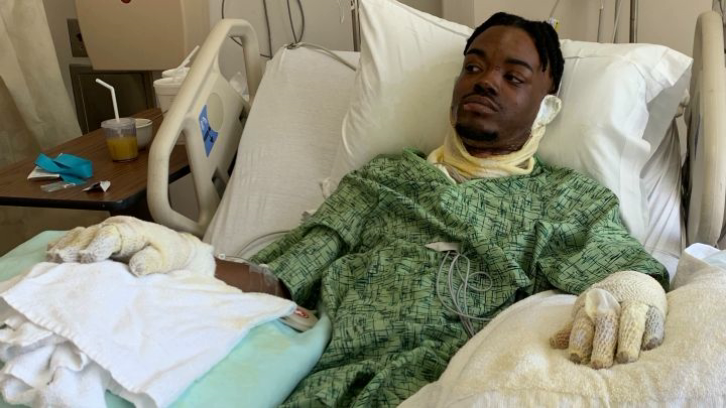 He said he then hurried to grab his three-month-old daughter from her room before running out of the house.
Williams told authorities that Smith – his partner of some eight years – had been acting strangely over the past three or four months and taking more than the prescribed dose of her medication.
He also claimed the pair had argued that night after he told Smith he was leaving her and moving out of their home.
Smith was arrested on charges of arson, recklessly endangering safety, and causing mayhem, and is currently being held on $25,000 bail.
She was ordered to undergo a competency evaluation during her initial court appearance on June 9.
A GoFundMe page set up for Williams – who suffered second- and third-degree burns – had raised $920 towards its $10,000 goal as of Thursday morning.