A woman caught on camera serving up a savage beating to a female victim at a Georgia pizza shop has been arrested.
Brittany Kennedy, 25, was taken into custody Tuesday, a week after she was filmed brutally bashing 22-year-old Emily Broadwater on May 17 at a Little Caesars in Augusta, the Richmond County Sheriff's Office said.
The violence allegedly kicked off inside the restaurant with Kennedy pulling  Broadwater's chair out from underneath her.
Viral cellphone footage shows Broadwater screaming on the ground as her attacker grips her by the hair and repeatedly pummels her.
A toddler wearing a pink bow tries to intervene, before Kennedy drags Broadwater out by her hair, tossing the victim onto the sidewalk and stamping on her head several times.
The 41-second clip ends after Kennedy finally relents and a bloodied Broadwater picks herself up and cries "My baby!"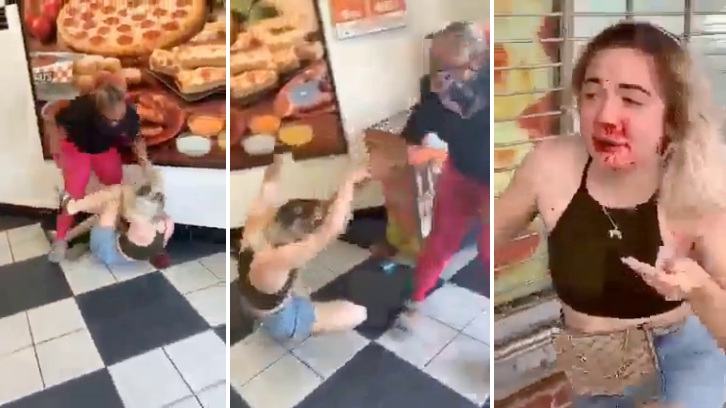 Broadwater sustained injuries including "a swollen and black left eye," a "severely swollen" bottom lip with a "large laceration on the inside," a "large knot on her forehead" and "multiple cuts on her head, face, and neck," according to a police report.
She received treatment at the scene but refused to be taken to hospital.
A motive for the fight has not been publicly released, but it allegedly began earlier at a home before continuing at the pizza joint, local station WJBF reported.
Sgt. William McCarty of the Richmond County Sheriff's Office told The New York Post last week that Broadwater and Kennedy were at loggerheads over the victim's contact with the father of the suspect's children.
The pair had had confrontations "for some time" but earlier incidents had not led to charges, McCarty said.
Kennedy was arrested in in Augusta and booked into the Charles B. Webster Detention Center.
She has been charged with aggravated assault, kidnapping and criminal damage to property.