A man who stabbed a woman in her rear end with a semen-filled syringe will spend a decade behind bars after pleading guilty to assault charges.
Thomas Stemen, 52, was sentenced Tuesday for carrying out the sick attack last year on a female shopper at a grocery store in Churchton, Maryland, 40 miles south of Baltimore.
He received a 25-year sentence after pleading guilty in June to felony and misdemeanor assault counts, but a judge suspended all but 10 years of that punishment, the Capital Gazette reported.
In February 2020, Stemen was caught on surveillance cameras at Christopher's Fine Foods market sneaking up to victim Katie Peters from behind as she returned her shopping cart.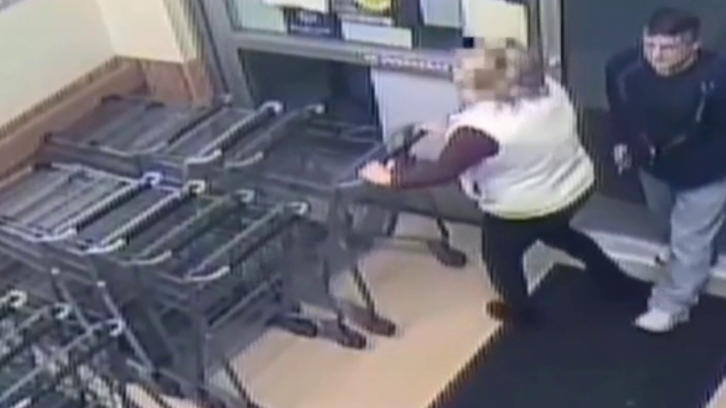 He then "bumps into" her and jabs her in the buttocks with a syringe, causing Peters to recoil in pain.
Peters later told cops that she asked Stemen if he had burnt her with a cigarette, to which he replied, "Ya it felt like a bee sting didn't it," according to the police report.
The victim also said that she felt a wet substance on her pants after feeling the needle prick.
A review of the grocery store's security footage revealed that Stemen had unsuccesfully tried to jab two other female shoppers.
After police put out a call for information on the suspect in the footage, an anonymous caller identified Stemen.
Cops found a syringe at his home and another in his car containing a cloudy liquid which was later determined by lab testing to be Stemen's semen.