A birthday party in Colorado turned from celebration to carnage early Sunday when a gunman stormed in and fatally shot six people before turning the weapon on himself.
The shooting happened shortly after midnight at a mobile home park in Colorado Springs where families had gathered in a trailer to celebrate.
The suspected shooter – the boyfriend of a woman at the get-together – burst into the trailer and opened fire before taking his own life, the Colorado Springs Police Department said.
The birthday party was for one of the victims, police said.
A motive for the attack is not yet known.
Officers responded to the scene at the Canterbury Mobile Park Home at approximately 12:18 AM local time.
"Upon arrival, officers located six deceased adults and one adult male with serious injuries who was transported to a local hospital where he succumbed to his injuries," a police statement said.
Children were also inside the trailer at the time but none were hurt in the bloody mayhem.
The names of the victims and the attacker have not yet been released.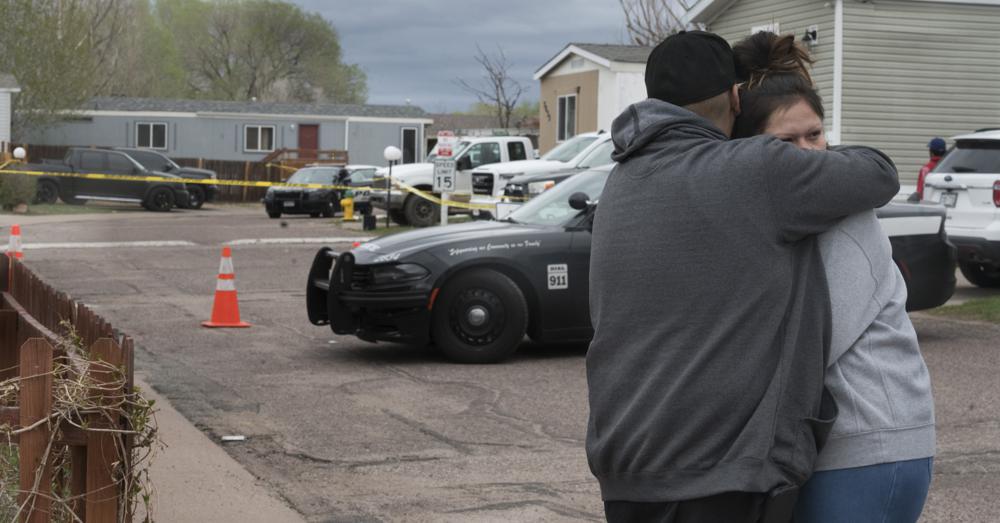 Neighbor Yenifer Reyes told The Denver Post she woke to the sound of multiple gunshots.
"I thought it was a thunderstorm," Reyes said. "Then I started hearing sirens."
She told the newspaper she saw children "crying hysterically" as police brought them out of the trailer.
Children who were at the party are now in the care of relatives, police said.
"Words fall short to describe the tragedy that took place this morning," Colorado Springs Police Chief Vince Niski said in a statement Sunday.
"As the chief of police, as a husband, as a father, as a grandfather, as a member of this community, my heart breaks for the families who have lost someone they love and for the children who have lost their parents," Niski said.
Colorado Springs Mayor John Suthers described the shooting as a "senseless act of violence, saying: "Today we find ourselves mourning the loss of lives and praying solemnly for those who were injured and those who lost family members."
Colorado Governor Jared Polis called the incident "devastating", particularly as the killings coincided with Mother's Day.
"The tragic shooting in Colorado Springs is devastating, especially as many of us are spending the day celebrating the women in our lives who have made us the people we are today," Polis said in a statement.
"Families torn apart, and at a birthday party no less," he said. "My deepest condolences and prayers are with the victims, their families, and everyone else impacted by this tragedy."
The mass shooting comes less than two months after a gunman killed 10 people at a grocery store in Colorado's Boulder City. The suspected shooter was arrested and faces 10 counts of murder.