Oscar Wilde put his thumb on the human craving for fame – or infamy – when he said that the only thing in the world worse than being talked about was not being talked about.
As if to illustrate the great Irish writer's point, a wanted woman in Oklahoma now appears to have been undone by the heady allure of being front and centre.
Lorraine Graves achieved a notoriety of sorts last week when she featured in a Facebook post by the Tulsa Police Department as their "Weekly Most Wanted."
The message appealed for tips to establish the whereabouts of the 24-year-old, who is suspected of being an accessory to murder.
If the sensible thing might have been for Ms Graves to keep schtum, it seems the thrill of attention overwhelmed her better judgment.
Responding to the post on Wednesday using a Facebook account in her own name, she enquired "where's the reward money at?"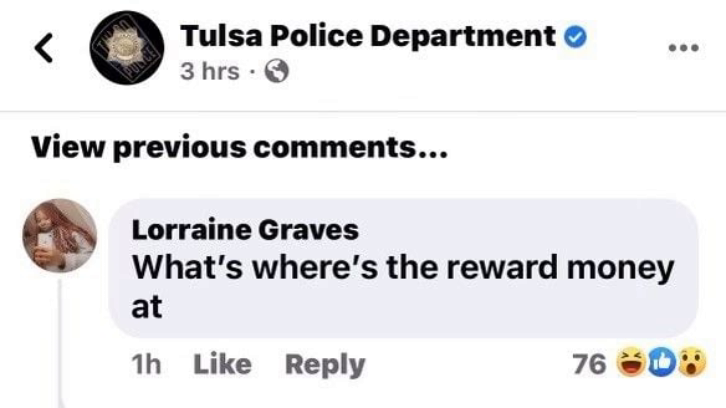 By way of reply, cops were soon "at" Graves, arresting her in north Tulsa the very next day, according to the department.
Graves was being sought in connection with the murder of Eric Graves, a 30-year-old who was found gunned down inside an apartment on March 13.
It is not clear whether the two are related.
The shooting itself was allegedly carried out by two brothers, 19-year-old Jayden Hopson and 20-year-old Gabriel Hopson, who have already been arrested.
However, video shows an unidentified woman accompanying the Hopson brothers and Eric Graves as they entered the apartment where the victim was later found dead, according to an affidavit obtained by Tulsaworld.com.
Crazy America awaits more specific information on Ms Graves' link to the crime, but we can confirm she has been charged and her bond set at $500,000 – presumably a good deal more than that reward money.