Turns out she has a second bite at the cherry.
A Florida nurse who choked an Uber driver from behind and sank her teeth into his neck as he drove her home has avoided jail time for the shocking unprovoked attack.
Michele Stilwell, 55, was sentenced to 18 months probation after pleading guilty to misdemeanor charges of battery and disorderly conduct in a plea deal, according to court records cited by The Smoking Gun. She had originally been charged with aggravated battery and tampering with a witness, both felonies.
Stilwell, a registered nurse in Florida since 1996, was also fined $850, ordered to have no contact with 23-year-old victim Michael Hassey Jr., and required to undergo a mental health evaluation.
Hassey, then 22, was driving his Uber in St. Petersburg, near Tampa, on a Saturday afternoon in mid-April when he picked up Stilwell to take her home.
According to Hassey, his passenger fell asleep in the back seat but then suddenly woke up and lunged at him.
While the car was moving, the nurse "reached forward and proceeded to choke the victim from behind" with both her hands wrapped around his neck, according to a criminal complaint.
As Hassey pulled over the car to try to get away,  Stilwell "managed to crawl forward onto the center console … and bite the victim deeply on the neck drawing blood." She "continued to bite, strangle and claw at the victim, who was unable to defend himself," police said in their arrest report.
Photos taken by witnesses who intervened once the car had stopped show a crazed Stilwell ending up sprawled across the driver's seat.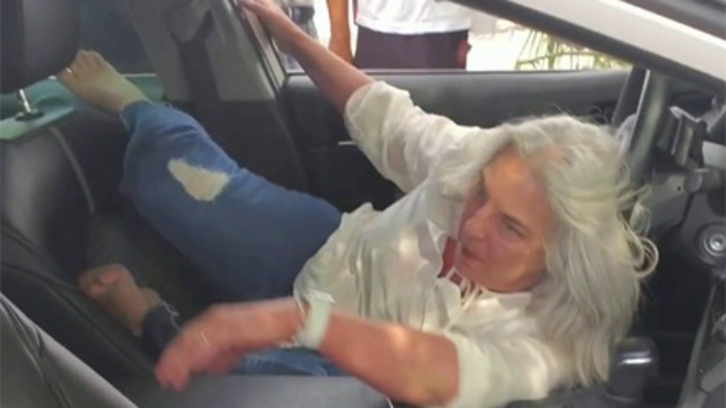 In video of the incident posted to Twitter, the nurse curses and screams "My daughter!" as bystanders plead with her to remove her hands from Hassey's neck.
Court documents do not cite a motive for the attack although arresting officers noted that Stilwell appeared to be under the influence of alcohol.
Stilwell's neighbors told local news station WFLA8 at the time that the attack was out of character for her.