A baby raccoon had to rely on some good old-fashioned human ingenuity this week after ending up in a rather tight spot in Michigan.
The inquistive creature's local explorations went awry on Tuesday when it somehow managed to get its head stuck fast in a sewer cover.
Enter the Harrison Township Fire Department, who were more than happy to put their expertise in saving two-legged mammals at the service of the hapless critter.
Lt. Brian Lorkowski told MLive that it was a first in his firefighting career when the department got called out Tuesday afternoon to help a local animal control unit rescue the forlorn furball.
His team soon realized that standard rescue strategies were out of the question.
"We didn't want to put a saw too close because it could heat up the cast iron and injure the animal, and we didn't want to nick it with a saw," Lt. Lorkowski told the news site. "We were trying all different kinds of options to not try and hurt it, but it was stuck in there really good."
The firefighters decided to opt for a less dangerous solution, trying out a range of household items before finally cracking the challenge.
"We first put dish soap around its neck, but that didn't work," Lt. Lorkowski said. "We had gloves on because it was biting and scratching. Then, a homeowner brought out cooking oil. We were able to guide it out then, but it was hard getting it out. I don't even know how it got stuck in there to begin with."
The newly freed raccoon was checked for injuries and thankfully found to be unharmed.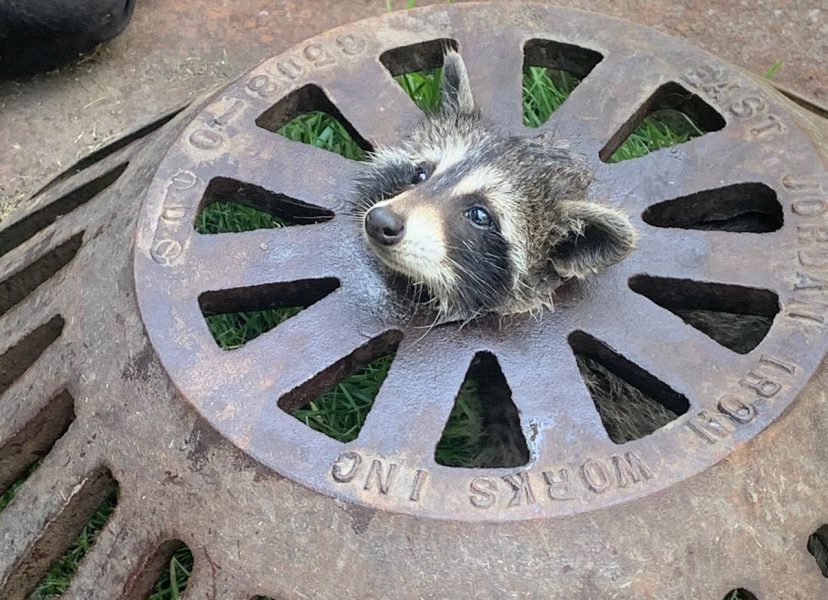 Lt. Lorkowski, who snapped some pics of the animal right before its liberation, said he won't forget the unusual callout in a hurry.
"I can't remember any raccoon rescues. I think this is my first, but we get ducks all the time that fall in the storm drains."