Some owners think of their dogs as little humans. There are risks, though, in assuming your furry best friend can do anything you can given proper training.
A Washington state man tired of waiting for the rollout of self-driving cars is now in the doghouse himself after police caught him on Sunday trying to turn his own beloved mutt into a private chauffeur.
Alberto Tito Alejandro, 51, from Lakewood, near Seattle, allegedly hit two cars on separate occasions, failing to stop both times as state troopers chased his vehicle at 109 mph up Interstate 5.
"He was driving very erratically. So erratically that multiple people called 911," trooper Heather Axtman told CNN.
When troopers tried to corner the car, one of them peered inside and was flabbergasted to see a pit bull sitting in the driver's seat as Alejandro steered and pushed the gas pedal from the passenger side.
In an effort to shake off police, he then drove onto Centennial Trail, a highly popular walking and cycling trail in Snohomish County.
"The fact that there wasn't anybody on the trail is nothing shy of miraculous," Axtman said. "We are very thankful."
Troopers were finally able to bring the car to a stop after setting up spike strips, although the craziness didn't end there.
During his arrest, Alejandro offered a singular explanation for the wild pursuit: he was "trying to teach his dog how to drive."
"I wish I could make this up," Axtman said. "I've been a trooper for almost 12 years and, wow, I've never heard this excuse. I've been in a lot of high speed chases, I've stopped a lot of cars, and never have I gotten an excuse that they were teaching their dog how to drive."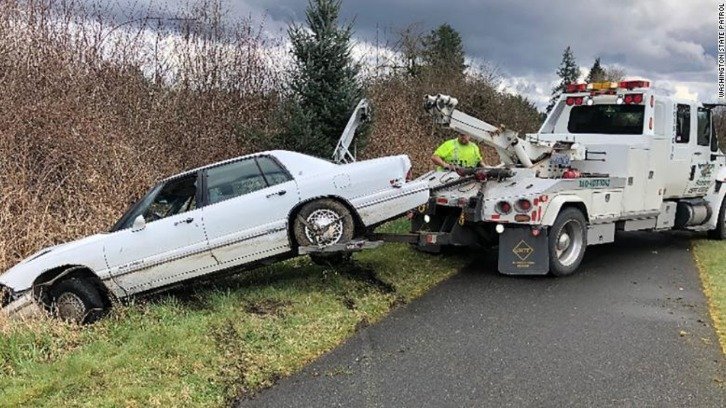 Alejandro now faces charges of reckless endangerment, hit and run, driving under the influence and felony eluding. His bond was set at $8,500.
The female pit bull was not at all aggressive towards arresting officers and has been safely taken to an animal shelter.
She is apparently keen to shake off her reputation as a Sunday driver.