As the craziest year in recent American history finally draws to a close, we at Crazy America revisit the question of who deserves the title of "Crazy American of the Year".
We present a pair of contrasting candidates. Let us know in the comments below if you agree, or if you disagree. The best response wins a "Crazy America 2021 T-shirt."
So, let's get into it.
This year, two very different images of alleged "white entitlement" went viral.
In St. Louis, "Kalashnikov Ken", otherwise known as Mark McCloskey, confronted a mob that he claims broke into his property and threatened to kill him and his wife.
If we take his claims at face value – and they were at least partially supported by photo and video evidence – then he was arguably within his rights to defend himself.
He didn't seek to encroach on others. They invaded his private domain.
After that fact, McCloskey's own skin color, his declared support of Democrats and Black Lives Matter, and his insistence that the aggressors were white are all irrelevant.
The contrast with "Permit Karen" couldn't be starker.
The woman, Montclair's Susan G. Schulz, encroached on the property of a neighboring couple, badgering and berating them about a document that they didn't even need to have.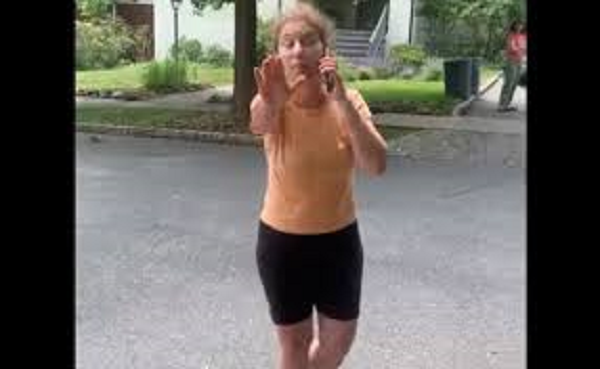 The couple she targeted are Black.
This is loathsome behavior whomever it is targeted at. When she didn't get what she was looking for, she made a disgraceful decision to allege assault and call the police.
Whatever anyone says, we can't know whether Schulz behaved the way she did primarily because of the physical appearance of her neighbors. It's possible she felt better than them for that reason. It is also possible that she's just a highly annoying busybody who would irritate the hell out of anyone near her, whatever their national or ethnic origin.
America has always been about plowing your own furrow, doing your own thing. So long as you don't hurt anyone else, you should be allowed to do you. The right to defend yourself is also a profoundly American value.
Many will argue that Missouri's McCloskey fits into that laudable tradition. Few, meanwhile, will disagree that Montclair's Permit Karen is the antithesis of it.
Let us know below what you think.