A California couple who wanted the announcement of their baby's gender to go with a bang will now be held to account for the tragic consequences.
Refugio Manuel Jimenez Jr. and Angela Renee Jimenez have been charged with involuntary manslaughter after their gender reveal party last year sparked a wildfire that killed a fireman.
The couple pleaded not guilty Monday to the felony charge and 29 other counts connected with the Sept. 2020 El Dorado Fire, officials said.
The fire broke out on Sept. 5 as the couple held a gender reveal party at El Dorado Ranch Park in Yucaipa, at the foot of the San Bernardino Mountains, 75 miles east of LA.
The inferno allegedly began when a smoke-generating pyrotechnic device set off in a field ignited dry grass on a scorching day.
The Jimenezes desperately tried to douse the flames with bottled water, but the fire quickly spread due to strong winds and dry conditions.
The El Dorado or Gender Reveal Fire took over two months to extinguish, claiming the life of Charles Morton, 39, leader of the elite firefighting Big Bear Interagency Hotshot Squad, and injuring 13 others.
Morton was killed on Sept. 17 when flames engulfed a remote area where firefighters were cutting fire breaks, or gaps in combustible vegetation, to contain the blaze.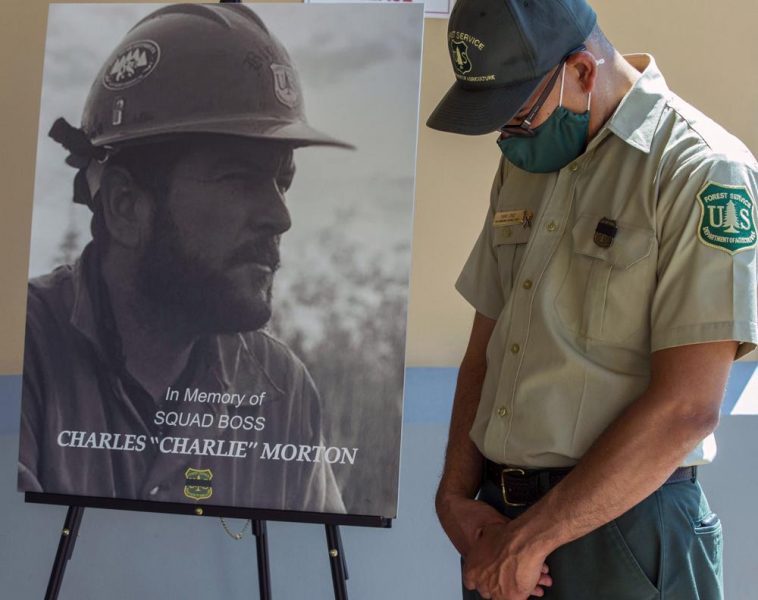 The fire raged across some 36 square miles, destroying five homes and 15 other buildings, and causing hundreds of evacuations.
The Jimenezes were released on the promise that they return to court, despite a request from prosecutors that each be held on $50,000 bail, according to The Desert Sun. Their next court date is set for Sept. 15.
In addition to the manslaughter charge, the couple faces three felony counts of recklessly causing a fire with great bodily injury, four felony counts of recklessly causing a fire to inhabited structures, and 22 misdemeanor counts of recklessly causing fire to property, the newspaper reported.
If convicted of all counts, they could spend more than 20 years behind bars.
In a statement posted to Twitter, the San Bernardino National Forest thanked the District Attorney's Office and Sheriff's Department "for their hard work and diligence in bringing forth charges in this case."
"Our thoughts are with Charlie's family, friends and colleagues today and always," the forest service said.